Expert Consensus on Artificial Liver Therapy
Author:Aurora Date:2023-01-18
In recent days, an article of expert consensus named Clinical application of artificial liver and blood purification was published on Hepatology International. The publication illustrates the importance, application, advantages, and disparities of artificial liver therapy in the medical world nowadays. And it also concludes that artificial liver is an effective method to treat liver failure.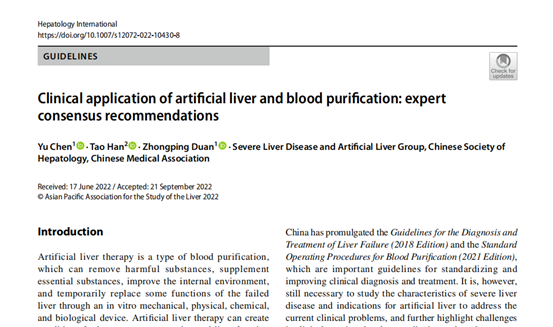 Artificial Liver Therapy
According to the report, artificial liver therapy is a type of blood purification that can remove harmful substances, supplement essential substances, improve the internal environment, and temporarily replace partial functions of the failed liver through an in vitro mechanical, physical, chemical, and biological device.[1]
Artificial liver therapy can be applied in patients experiencing liver failure in pre-, early, and mid-stage to either create a space for hepatocyte regeneration and liver function recovery or prolong the available time for patients to receive a transplant.
However, transplantation, most of the time, does not represent 100% success. In contrast, the low success rate of transplantation and the limited availability of donors lead researchers to seek and develop other therapies.[2]
After years of development, artificial liver therapy enjoys wider treatment applications, including sepsis or MODS with severe liver injury, acute poisoning, refractory severe immune diseases, etc.
For patients with different symptoms and in different stages, eight treatment modalities with the artificial liver are offered, including PE/SPE, HP, and DPMAS, which can be combined to target specific situations.[3] A growing number of clinical research have been proving the efficacy of artificial liver therapy. And one of the most important treatment modalities, double plasma molecular adsorption system (DPMAS), has been extensively investigated in acute-on-chronic liver failure from hepatitis B viral.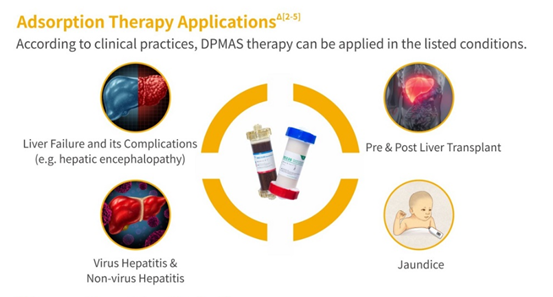 DPMAS is a hemoadsorption mode composed of BS330 (Anion-exchange bilirubin adsorption) and HA330-II (Neutro-macroporous resin adsorption). Bryan Xie, head of Jafron International Business Unit, commented that Jafron DPMAS had generated satisfactory results in liver failure patients, and we will dedicate more to life-saving career.
The development of artificial liver therapy will benefit many people, considering the increasing number of cases. Jafron, as a global provider of hemoadsorption technology, products, and therapy services, has been focusing on the development of artificial liver therapy and will keep improving its technologies and provide more efficacious hemoadsorption therapy to patients in need.
Reference
[1] Chen Y, Han T, Duan Z; Severe Liver Disease and Artificial Liver Group, Chinese Society of Hepatology, Chinese Medical Association. Clinical application of artificial liver and blood purification: expert consensus recommendations. Hepatol Int. 2022 Nov 2. doi: 10.1007/s12072-022-10430-8. Epub ahead of print. PMID: 36324040.
[2] https://www.medicalnewstoday.com/articles/artificial-liver
[3] Sibylle Rademacher, Michael Oppert & Achim Jörres (2011) Artificial extracorporeal liver support therapy in patients with severe liver failure, Expert Review of Gastroenterology & Hepatology, 5:5, 591-599, DOI: 10.1586/egh.11.59
https://www.tandfonline.com/doi/full/10.1586/egh.11.59?cookieSet=1
[4] https://clinicaltrials.gov/ct2/show/NCT05030571
[5] https://www.hindawi.com/journals/cricc/2017/6987167/